Horizontal Polypropylene Pumps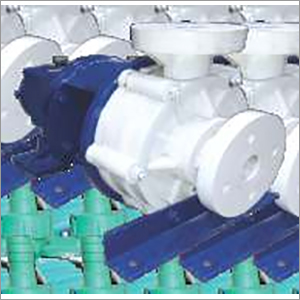 Horizontal Polypropylene Pumps
Product Description
Application
Water treatment Plant
Effluent Treatment
Filter Press for dyes and chemicals
Fertilizer Plants Thermal and atomic power plants
Drugs & Pharmaceutical Industries
Descaling of Tubes
Scrubbing of corrosive gases like Cl , Br , I, So2 , NH3 , F2 Etc. 2
Excellent for vacuum ejectors
Transferring of concentrated HCL from road tankers
Paper & Pulp industries
Pickling in steel rolling mills
Caustic soda plants :
Chlorinated Brine , Conc. HCL ,Dilute HSO etc. 2 4
PHOSPHORIC Acid Plants :
H3PO4 , H2SO4 , HF and their mixtures with or
without solid (gypsum) up to 40% conc.
Gas Washing Plants :
Scrubbed Liquids containing CL , BR2 , F2 , I2 , SO2 , SO3 , CO2 , 2
NH3 , Gases etc. with solids replace Hast Alloy.
Rayon Plants :
Spin bath solution (H2SO4 , ZNSO4 , NaSo4 , etc.)
Material Of Construction
CASING :
Top centerline discharge and Integrated flanges , Single piece , joint less casing formed out of Injection molded polypropylene / PVDF / UHMWPE.
IMPELLER :
Hydraulically balanced and accurately matched to casing profile , the semi open type impeller with particle shroud and glass finished smooth flow passage ensure high efficiency low NPSH Performance Impeller made from compressor molded polypropylene PVDF / UHMW.
SHAFT :
The shaft is made from SS 304 protected by shaft
sleeve of alloy -20 or alumina field Teflon or ceramic.
BEARING HOUSING :
Made form heavy duty graded casting.
BEARING :
SKF Ball Bearing
MECHANICAL SEAL :
Rotary part of seal is made from glass field PTFE & stationary part of seal is made from high alumina field ceramic.
DISTANCE PIECE :
Heavy duty one piece injection molded poly propylene.
Range
Head Up To : 60 mtrs
Pump size : 25 mm to 150 mm
Capacity : 180 M/hr
Speed : 1440/2880 rpm at 50 Hz & 1750/3500 rpm at 60 Hz
Temperature : up to 110c