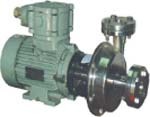 Stainlesssteel centrifugal pump for Bottling plant
Product Code : 103
Price And Quantity
Unit of Measure

:

,
Product Description
STAINLESS STEEL CENTRIFIGAL PUMP
Applications :

Milk, Cream, Butter Milk Condensed Milk
Fruit Juice,Sugar Syrup
Vitamin Solutions, Sugar & Confectionery.
R O Water, DM water, Pure Water.
Water for Injection (WFI)
Vegetable Oil, Mineral Oil, Lub Oil etc.
Pharmaceutical Formulations, Syrup etc.
Alkaline Solutions / Alcoholic Drinks
Acids, Fine Chemicals
Bottling Plants, Soft Drinks & Distillery
Food Processing / Liquid Food Stuffs
Water Treatment Plats
Colour dyes and Pigments / Paints
Descaling Applications, Paper & Cement Industries
Detergent, Soaps, Paste & Shampoo
Textile Sizing, Dyeing & Finishing Systems
Natural Cellulose Fiber / Synthetic Fiber System
Hot & Cold Water Pumping.

Features :

As all pumps are made from rolled stainless steel, mechanical properties are far superior then cast material.
Pore free, non-pitting and non-adhering smoother surface, so less friction losses, and less crevice corrosion.
Super finish surface also ensure no ingress or emission of germs or impurities
during pumping or idling which is basic requirement of sterlie / hygienic application
Designed for CIP (clean in place) or manual cleaning
Pumps are highly energy efficient and requires less NPSH to function without cavitation
Pump can handle liquids having viscosities up to 1500 centipoise
The pumps can work under a vacuum of 720 mm of Hg, suitable for vacuum evaporators.
Pumps are available with closed/semiopen impellers.
The best elastomers are used in the pumps to provide optimum resistance for high temperatures and chemicals.
Minimum working / rotating parts
Safe and quite operation levels.
Gentle product handling with lower maintenance and downline cost.
Dynamically combinations of seal faces as per customer's requirement (single seal / double seal, seal external cooling)
Suitable for standard motor or flange type or foot cam flange type motor or engine
Monobloc or bare pumps or with trolley
Also with flame proof motors
Various types of connection like - tri'clove joints SMS, Flanges or threaded nipple/coupling
Pumps with adjustable legs, available in request
| | | | |
| --- | --- | --- | --- |
| No. | Description | No. | Description |
| 1 | Eye Type Wing Nut | 9 | Stud S.S. |
| 2 | Triclover Joint | 10 | Back Plate S.S. |
| 3 | Cassing S.S. | 11 | Bearing Bracket CI |
| 4 | Impeller Nut S.S. | 12 | Impeller Key S.S. |
| 5 | Impeller S.S. | 13 | Rotor Shaft S.S. |
| 6 | Gasket | 14 | Part of Triclover |
| 7 | Mechanical Seal | 15 | Motor Cover S.S. |
| 8 | Distance Piece S.S. | 16 | Motor |
Casing

AISI 316 / 316L / 304 L / 304

Impeller

AISI 316 / 316L / 304 L / 304

Wear plate

AISI 316 / 316L / 304 L / 304

Shaft

AISI 316 / 316L / 304 L / 304

Seal

TC / TC, SIC / SIC, SS/Carbon
or even seal in special application

Motor Cover

SS-304 /S202

Gasket

Viton / Nitrile / Silicon / PTFE
MODEL

HP

SIZE

Head in Meter Discharge in LPM at 2900 RPM

3

5

7

10

12

15

17

20

22

25

27

30

35

40

CFS-1

0.25

12X12

40

30

-

-

-

-

-

-

-

-

-

-

-

-

CFS-2

0.5

25X25

-

100

45

-

-

-

-

-

-

-

-

-

-

-

CFS-3

1

25X25

-

-

140

120

70

35

-

-

-

-

-

-

-

-

CFS-3A

1

38X38

-

-

181

95

50

-

-

-

-

-

-

-

-

-

CFS-4A

1.5

38X38

-

-

-

-

-

160

130

90

75

-

-

-

-

-

CFS-4B

1.5

50X50




-

-

-

-

250

166

85 at 18mtr

-

-

-

-

CFS-5A

2

38X38

-

-

-

-

225

190

155

105

78

40

-

-

-

-

CFS-5B

2

50X50

-

-

330

250

160

85

-

-

-

-

-

-

-

-

CFS-6A

3

50X38

-

-

-

-

-

-

-

250

220

180

135

108

50 at 33 mtr

CFS-6B

3

50X50

-

-

-

-

-

330

310

300

250

160

85

-

-

-
MODEL

HP

SIZE

Head in Meter Discharge in LPM at 2900 RPM

16

20

24

28

32

36

40

44

48

CFS-7A

5

50X38

-

-

260

230

190

145

90

-

-

CFS-7B

5

65X50

400

370

300

230

180

-

-

-

-

CFS-8A

7.5

50X38

-

-

290

280

250

225

190

120

60

CFS-8B

7.5

65X50

500

450

385

280

230

-

-

-

-

CFS-9A

10

50X38

-

500

480

470

450

410

350

290

190

CFS-9B

10

65X50

560

510

450

370

280

200

150

-

-